Custer, South Dakota is in the heart of the Black Hills and is a place that you want to add to your bucket list. Custer is surrounded by beautiful scenery, definitely Instagram worthy, amazing wildlife and fun outdoor activities, including hiking, biking, rock climbing, kayaking and so much more. Custer has a population of around 2000 people so it gives you a small town feel but has so much more to offer. Here are some of the fun activities that you can add to your itinerary that are all within 30 minutes of Custer
Custer State Park – 5 minutes away
Custer State Park has 71,000 acres full of wildlife and beautiful scenery. There is something here for everyone including wildlife, camping, hiking, biking, swimming, fishing and so much more. There are many different kinds of wildlife including bison, elk, donkeys, birds and so much more. This is definitely a great place to bring your family of all ages. One event to add to your trip is the Custer State Park Buffalo Roundup and Arts Festival.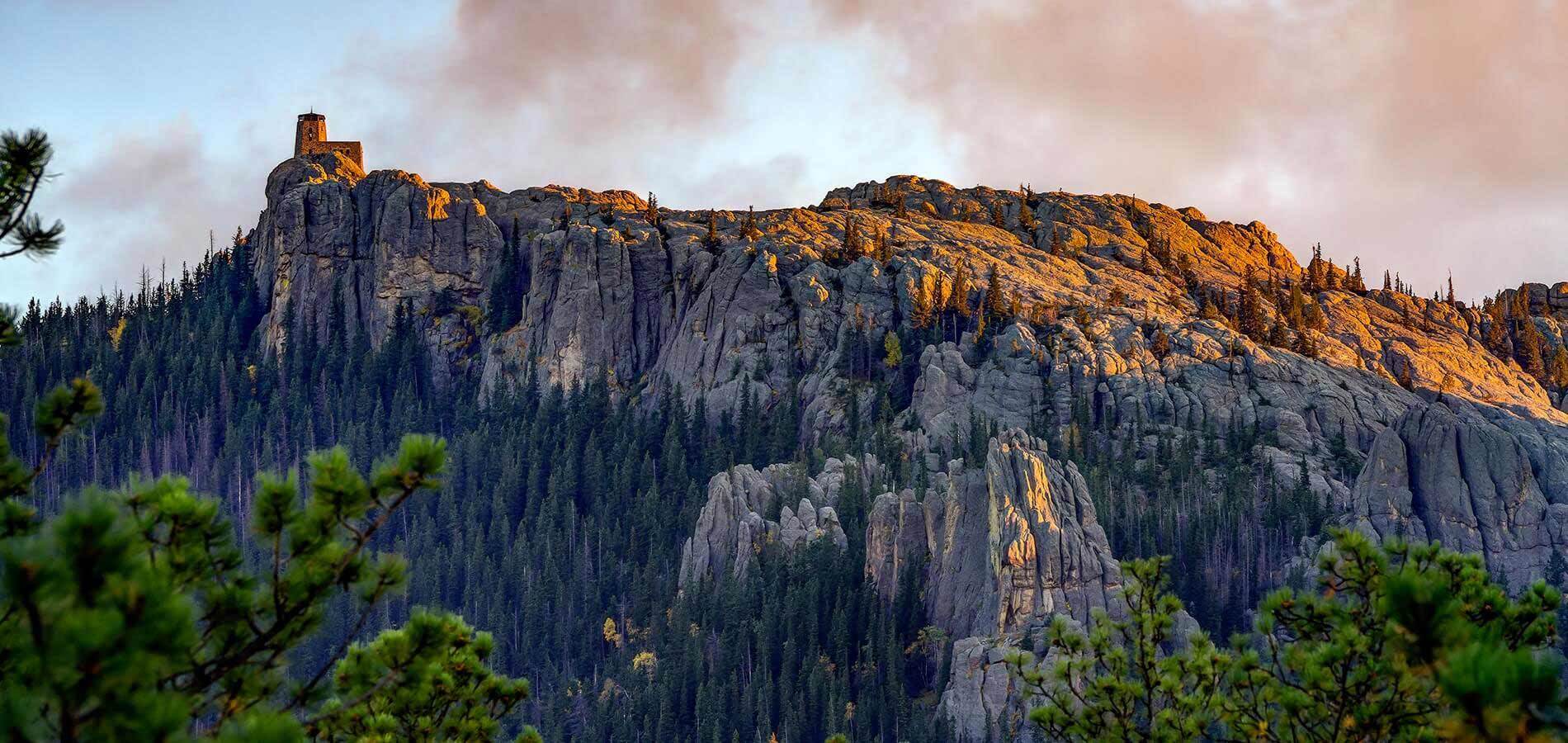 Crazy Horse Memorial – 5 minutes away
Crazy Horse Memorial is a mountain carving that is located between Custer and Hill City. When it is finished it will depict an Oglala Lakota Warrior, Crazy Horse, riding a horse and pointing into the distance. This is the world's largest mountain carving to date. This project started on June 3, 1948, with a mission to honor the North American Indians. There are many fun activities that Crazy Horse hosts every year including Legends in Light Laser Show, Night Blasts, Volksmarch and so much more.
Sylvan Lake –10 minutes away
Sylvan Lake is one of the most well-known lakes around the Custer area. If you have heard of National Treasure 2: Book of Secrets, this was filmed there. Sylvan Lake has outdoor activities for all ages including hiking trails, kayaking, swimming, and rock climbing. Photographers love to take photos at this lake because of all the amazing photo opportunities and this is also a very popular location for weddings and special occasions.
Black Elk Peak - 10 minutes away
Black Elk Peak is formally Harney Peak and is the highest point in South Dakota at 7,242 feet. It usually takes about 3 hours to get to Black Elk Point that was a location that watched for forest fires. This point is now a place where many go to take in the breathtaking views of the beautiful Black Hills.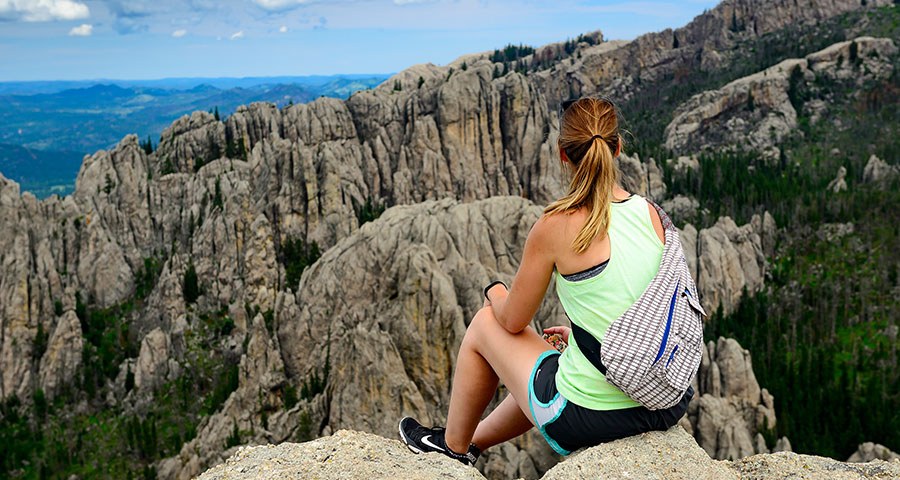 Needles Highway and Needles Eye - 10 minutes away
The Needles Highway was named around the needle-like rock that looks like they are touching the sky when you are on the highway. This road was intended on being traveled slowly so you could relish in all of the beauty. The Needles Eye is a unique rock that was formed by rain, freezing and then thawing.
Mickelson Trail – in Custer
The Mickelson Trail is a trail that is 109 miles long was finished in 1998. This is an amazing trail is open year round. You can go on long walks, snowshoe, bike and go horseback riding. The scenery is breathtaking and is available for all ages. There are 15 different trailheads that are located throughout the black hills that have parking, toilets, and tables so you can celebrate your walk with your family and loved ones with ice cream or a beautiful picnic. The biggest event that the Mickelson Trail hosts every year is the Mickelson Trail half and full marathon.
1880 Train in Hill City and Keystone – 15 minutes away
The 1880 Train is a good old-fashioned activity for all ages. This is a two-hour trip totaling 20 miles between Hill City and Keystone. The Black Hills Central Railroad is known to be the oldest tour railroad that is still operating continuously and operates two diesel engines and 3 steam engines. On this tour, you get to travel and look into the beautiful black hills just like our ancestors did.

Jewel Cave - 15 minutes away
Jewel Cave is known for its beautiful crystals that sparkle like jewels in the lantern light. This was discovered by the Michauds in 1900 and quickly turned into a tourist attraction. The government eventually bought Jewel Cave from the Michauds and it was then turned into a National Monument in 1908. Jewel Cave gives amazing tours and is definitely something that you do not want to miss.
Wind Cave - 25 minutes away
Wind Cave is known as one of the longest and most complex caves in the world. This cave is known for its calcite formations that are also known as boxwork and frostwork. Wild Cave is the owner of about 95 percent of the worlds boxwork. Wind Cave is known as one of the longest caves in the world with about 150 miles of cave passageways.


Mount Rushmore National Memorial – 20 minutes away
Mount Rushmore is a one of kind monument that makes South Dakota known for on the map. It is the states top tourist attraction and is proud to be known as the Mount Rushmore state. Mount Rushmore features a six foot head of George Washington, Thomas Jefferson, Theodor Roosevelt, and Abraham Lincoln. People from all over the country come to view this National Memorial. There is an amazing visitor center and you can even get Thomas Jefferson ice cream.
Here are some other fun things to do around Custer: Rushmore Tramway Adventures, Rush Mountain Adventure Park, Evans Plunge, Mammoth Site, Adventure Rentals, 1881 Courthouse Museum, Black Hills Aerial Adventures, Black Hills Balloons, Black Hills Wild Horse Sanctuary, Buffalo Ridge Adventures, and so much more.