There are three main ways of entering the Black Hills. You can come North from Nebraska and Wyoming through the Southern Hills starting around the Custer area, from the West by Wyoming entering Spearfish or you can come for the Eastern side of South Dakota and come in through the Badlands into Rapid City. These are all three great ways full of things to do and see.
If you come in through the Eastern side of the state, you will get to enjoy the beautiful view of the Badlands National Park on your way in. This is a great place to get out of the car and enjoy the views or you can drive along Badlands Loop. Don't forget to stop at Wall Drug on your way in. Did you know that there is even a sign in Shanghai?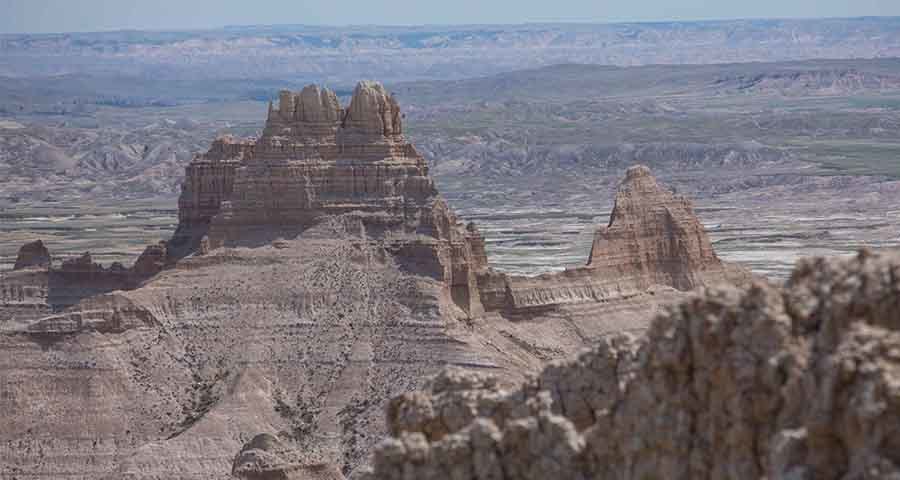 After you continue on I-90 to Rapid City, the view is beautiful of the hills starting to develop. This is a great place to stop for a full days trip. Rapid City is the home of the popular destination called Main Street Square. Main Street Square is a town square where kids can run around in large fountains, they have live music and a coffee and ice cream shop. There are so many activities planned for the entire year so make sure to check out what is going on during your visit.
Do your kids like animals and reptiles? Rapid City is also the home of Old MacDonald's Farm and Bear Country. Bear Country is a beautiful drive through park where you can see a wide variety of animals including bears! Another close spot is Old MacDonald's Farm. Old MacDonald's Farm is a petting zoo and farm that kids love bottle feeding the lambs and calves. They also have pony rides, pig races and you can cuddle up to some chicks and ducks. Finally, it is the amazing Reptile Gardens. Reptile Gardens is a must-see no matter the age. There are so many exotic reptiles and they hold the Guinness-Record of collection of reptiles. The kids love the shows and also petting the tortoises.
After that full day of activities, you will be tired. There are so many great things in Rapid City not listed that need to be added to the to-do list. If you jump back on I-90 a great place to go next is to Spearfish Canyon. Make sure that you have your cell phone this time because this is a great place to grab a family photo. There are so many waterfalls that your kids will want to take photos in front of. If you come in the fall, the leaves are all changing that you will want to get out and hike while to let the kids burn off energy. One great trail is called Roughlock Falls that you will want to check out.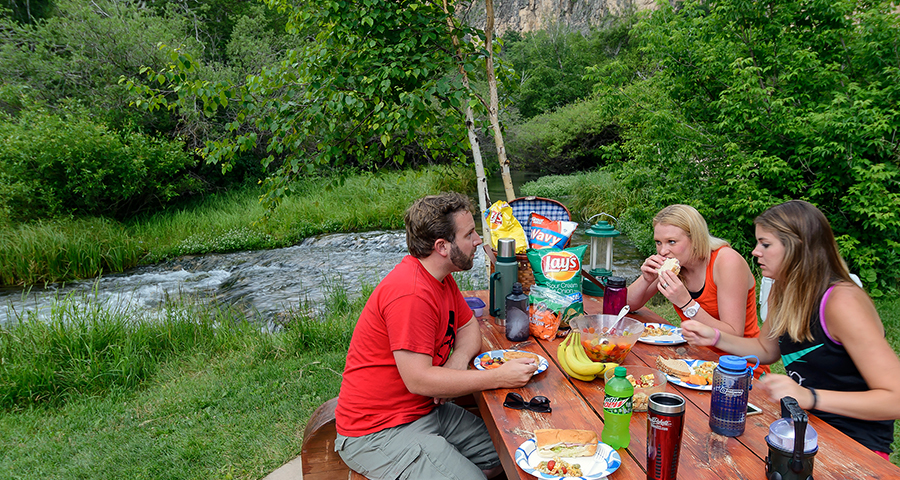 The next great place to go is through Keystone. First, they have amazing taffy downtown. The walk downtown is full of cute shops and restaurants that everyone will enjoy. Downtown you will see the 1880 Train. If any of your kids like steam locomotives this is a great two-hour ride with great views. Keystone is also known for its adventure parks. There are two adventure parks called Rushmore Mountain Adventure Park and Rushmore Tramway Adventures. If your kids like ziplining, rollercoaster through the hills, slides, and cave tours this is a must-see. Rushmore Mountain is known for its Rushmore Cave tours.
Next comes the national monuments. Have you ever heard about Mount Rushmore or Crazy Horse Memorial? These two mountain carvings are known all over the world. Crazy Horse is an Oglala Lakota warrior, named Crazy Horse, riding a horse and point into the distance. Crazy Horse is a great hike with awesome night blasts. Mount Rushmore is the mountain carving with the faces of 4 major presidents – George Washington, Thomas Jefferson, Theodore Roosevelt, and Abraham Lincoln. There are self-guided tours, ranger programs, and hikes that you can take at Mount Rushmore. You can't forget the photo of your whole family right in front of the faces enjoying some of Thomas Jefferson's ice cream.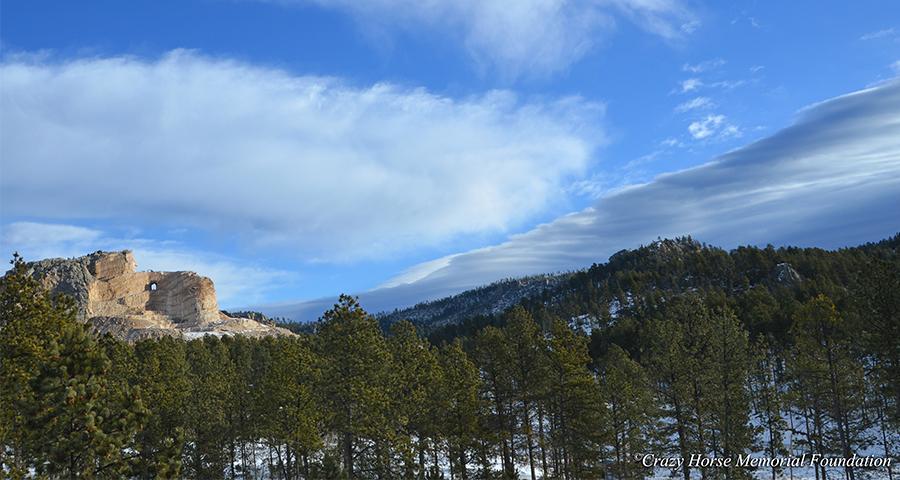 Custer is the next tourist attraction, especially for kids. Custer is well known for Custer State Park and the Needles Highway. When you go through Custer State Park there is so much for you and your family to do. First, you can start with Wildlife Loop. You will see bison, elk and one of the kid favorites are the famous begging burros. If being in your car isn't good enough, they even offer a Jeep Safari that takes you down and center. Needles Highway is an amazing 14-mile drive. You will see all the beautiful trees of the Black Hills and the granite mountains. There are so many places to stop and go on a hike and enjoy the views. This highway takes your ride to Sylvan Lake. Sylvan Lake has so many options for you and your family ranging from hiking, rock climbing, fishing, kayaking, canoeing. It is just an amazing place to relax and put up your feet. You may remember this lake from a famous movie. Do you know what movie it is?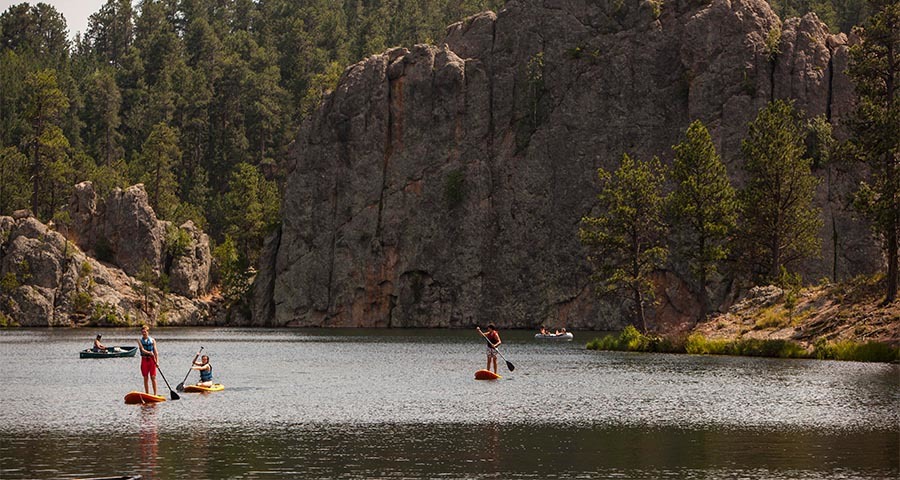 One thing I would wait and spend an entire day doing is climbing up Black Elk Peak – formerly known as Harney Peak. Black Elk Peak is a nice hike but as you get closer to the summit it gets a little more strenuous, so it is good to take your time. The views from the stop are spectator.
Custer is also known for Black Hills Balloons. Do you and your family always get excited when you see a hot air balloon flying in the sky? Do you almost want to pull your car over to see where it is flying to? Well here is your chance to be the lucky ones to be in the balloon looking down at everyone and seeing all the beautiful views of the Black Hills from a new point of view.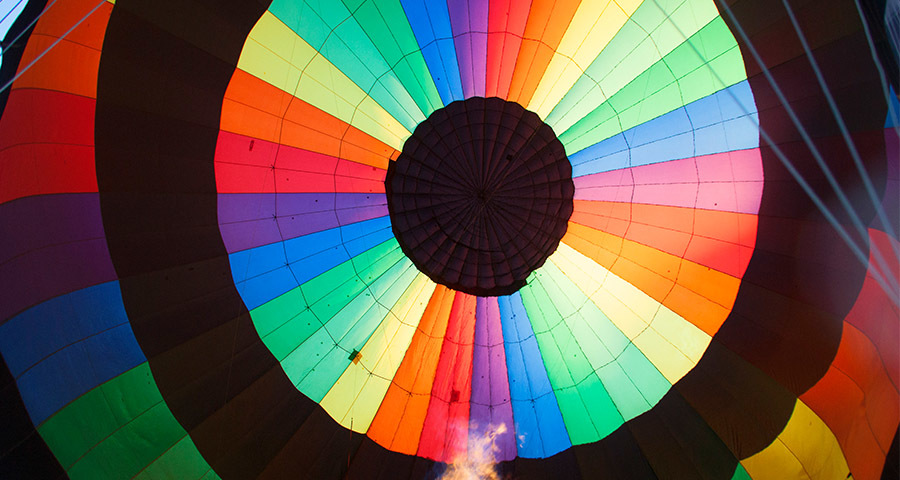 Lastly, there are a couple of other attractions that many kids would love to do including caves, a mammoth site, and a water park. The Black Hills has two national monuments known as Jewel Cave and Wind Cave. Jewel Cave is the third-largest cave in the world and has amazing tours and hikes. It is located 13 miles west of Custer, SD. Wind Cave is one of the longest and more complex caves. Wind Cave has hiking trails, horseback riding, and camping available. Wind Cave is 18 miles from Custer.
Hot Springs has two great places to stop with kids. The Mammoth Site is a great place for kids to see an indoor active dig and view fossils. The Mammoth Site offers guided tours and educational programs. Lastly, there is Evans Plunge. Evans Plunge is an indoor pool that is naturally warm because of its mineral water that is coming right from a spring. This is a great place for the whole family.
Listed above are just some of the main attractions in the Black Hills that are great for kids. Other advice is bringing snacks! Your kids are going to be running around and you may forget what time it is. There are so many great places to eat and stay in the Black Hills so even before you plan your day check out all of the different options, so you are ready to go! We hope you and your family enjoy!