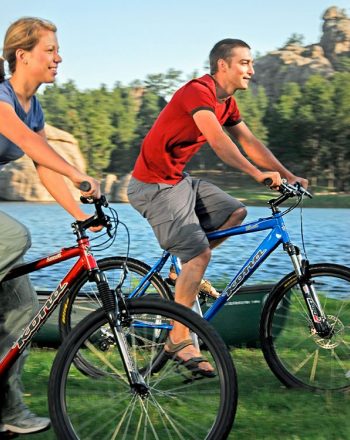 A Mountain Biker's Delight
A popular destination for mountain bikers, the Black Hills boast over 6,000 miles of old logging trails, backcountry roads, and abandoned railroads that are open for exploration. Leisure riders and thrill-seekers alike will love the back trails and wide-shouldered scenic highways around Custer. It's doesn't matter what kind of ride you're looking for, you'll find it here.

Mickelson Trail
Mountain bikers on the Mickelson Trail will find themselves surrounded by 109 miles of raw, natural beauty as they cruise along gently rolling slopes and across old converted railroad bridges. All trail users age 12 and older are required to purchase a $3 daily pass or an annual $15 trail pass. Passes may be purchased online, at the trail office, at the Custer Area Chamber of Commerce or one of the trailheads.
Real visitors. Real experiences. Share yours.
#CusterSD
@VisitCusterSD